Rafael del Pino always believed in freedom understood in its strongest sense, as an indivisible unit. It is from freedom that men must make their decisions and assume their responsibilities. But it is on the basis of freedom that societies must forge their future.We know that man was created free. Free to make his decisions, free to choose his path, free to act in every moment, free to believe, to love, to work. But man's freedom is one, and it encompasses all freedoms. Man cannot be free to vote but not to create or to undertake. Democracy would be incomplete without a market economy system in which all citizens are free to pursue their dreams, whatever they may be (Rafael del Pino, 2002)".
And the exercise of freedom requires sound institutions: We will not be able to act in a useful and effective way if the environment around us does not allow us to do so freely" (Rafael del Pino, 2002).". The Foundation therefore contributes to the strengthening of the institutional architecture articulated after the Second World War in what has come to be known as the International liberal ordera set of structured, rules-based global relations founded on liberalism and multilateralism, shaped around values and institutions such as freedom, the rule of law, human rights and the free market within the framework of liberal representative democracy.
The Foundation organises a large number of activities in this field, both in the field of training and in the field of dialogue and dissemination of knowledge. Among the latest events organised in this line, the following are worth mentioning:
"NATO's strategic approach to Russia", a session in which Javier Colomina, Félix Sanz Roldán and Mira Milosevich participated.
"Where is the growing rivalry between superpowers leading us? Order or disarray in global security and the global economy", a conversation between Alicia García Herrero and Mira Milosevich.
"Why Putin's Russia? Unfinished business in post-Soviet times" in which the three Nobel Peace Prize 2022 laureates (Elena Zhemkova and Grigory Shvedov, together with Mykola Riabchuk, Natalie Nougayrède, Oleksandra Romantsova and Natalia Satsumkevich) took part, all within the framework of the meeting of Memorial members in Madrid.
"The defence of the Rule of Law in the European Union", with the participation of Markus Gehring, Dimitry Kochenov, Rosario Silva de Lapuerta, Catherine Barnard, Alessandro Nucara and Carlos Javier Moreiro, in a collaboration between the Foundation and the universities of Cambridge and Carlos III of Madrid.
"Russian opposition to Putin and the impact of sanctions" dialogue with Natalia Arno, Vladimir Milov and José Ignacio Torreblanca.
"The Peace and/or Justice Dilemma in Ukraine", a meeting in which Philippe Sands, Mark Freeman and Carlos Castresana took part.
These meetings are joined by other initiatives, such as the work of Professor Rafael del Pino, Leandro Prados de la Escosura, whose latest work, entitled "Human Development and the Path to Freedom (Cambridge University Press)" reanalyses the foundations of the liberal order, or the master lectures given at the Foundation's headquarters by Francis Fukuyama, Nouriel Roubini and Yuri Felshtinsky, among other activities.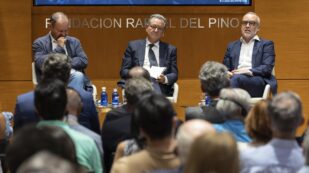 Cooperation among Western democracies and market economies is increasingly important on security, economic and global policy issues. However, one of the most striking features of contemporary European politics is its tendency to focus insufficiently on its transatlantic relationship with the United States.
Indeed, research and teaching on contemporary US-Latin American politics, Atlantic security or transatlantic innovation policy does not reflect the importance of the US for Europe in addressing global challenges such as democratisation, terrorism, trade, proliferation, financial regulation, or drug trafficking, to name but a few.
Given that progress on these issues requires intensive cooperation among Western democracies, with the US-European relationship at the centre, a particular effort is required. In this framework, the Harvard Kennedy School's Belfer Center for Science and International Affairs and the Rafael del Pino Foundation collaborate to advance dialogue on transatlantic relations. They did so by organising the Transatlantique Conference in Spain in 2020 and 2018, an effort that has been continued with the work of the Rafael del Pino-MAEC Fellow, who is part of the Belfer Center's teaching and research team every year. These are some of the research results of these Fellows:
Transatlantic Conference 2020
On 1 and 2 July 2020, the Transatlantic Conference 2020. On 1 July, some thirty experts met to discuss the impact on the global economy and trade in the aftermath of the great pandemic. The experts reacted to the presentations by Michael FromanVice Chairman and President, Strategic Growth for Mastercard, and Sabine WeyandThe meeting addressed three main issues: how the US and Europe can improve trade and economic relations amidst COVID recovery plans on both sides of the Atlantic; what a future US-EU trade relationship might look like; and how the US, Europe and other countries can work together on reforming the WTO and addressing trade complaints against China.
Within the framework of this meeting, on 2 July 2020, a public session was held, entitled "Redefining inclusive transatlantic security in the Covid era". in which they participated: Maria del PinoPresident, Rafael del Pino Foundation; Susana MalcorraDean of the IE School of Global and Public Affairs; Nicholas BurnsRoy and Barbara Goodman Family Professor of the Practice of Diplomacy and International Relations, Harvard Kennedy School; Arancha GonzálezMinister of Foreign Affairs, European Union and Cooperation of the Government of Spain; Madeleine AlbrightFormer U.S. Secretary of State; and Mircea GeoanaNATO Deputy Secretary General.
Transatlantic Conference 2018
On 6, 7 and 8 July 2018, the Transatlantic Conference 2018. International relations experts from around the world met in Spain to explore key issues and challenges in the European and US spheres.
As part of this initiative, a meeting was held in the Rafael del Pino Auditorium, entitled "Transatlantic relations in crisis". in which they participated: Maria del PinoPresident, Rafael del Pino Foundation; Ana de PalacioFormer Minister of Foreign Affairs, Government of Spain; Jane HarmanDirector, President and CEO of the Wilson Center; Karen DonfriedPresident, German Marshall Fund of the United States; Karl Kaiser, Senior Associate at the Belfer Center for Science and International Affairs, Harvard Kennedy School & Adjunct Professor of Public Policy emeritus, Harvard Kennedy School; Nicholas BurnsRoy and Barbara Goodman Family Professor of the Practice of Diplomacy and International Relations, Harvard Kennedy School; and Manuel MuñizDean of the IE School of International Relations and Professor Rafael del Pino.