Its spacious conference room, with capacity for 90 people, has excellent natural lighting that creates a very welcoming atmosphere. It is a space that allows the room to be personalised for each event, adapting it to the needs and wishes of the clients. It also has a beautiful courtyard where you can enjoy your event in the open air.
The conference room of the Rafael del Pino Foundation, with a stage on the far left, is a unique versatile space with alternative arrangements for theatre and meeting rooms. It has natural light. It was inaugurated by the President of the United States, Bill Clinton.

The Foundation has organised 325 keynote lectures and 223 expert meetings with the participation of leading personalities from academia, business and politics, including more than 40 Nobel Prize winners, Heads of State and Government and experts from all over the world, willing to share experiences and knowledge for a better society.
Types of assembly for events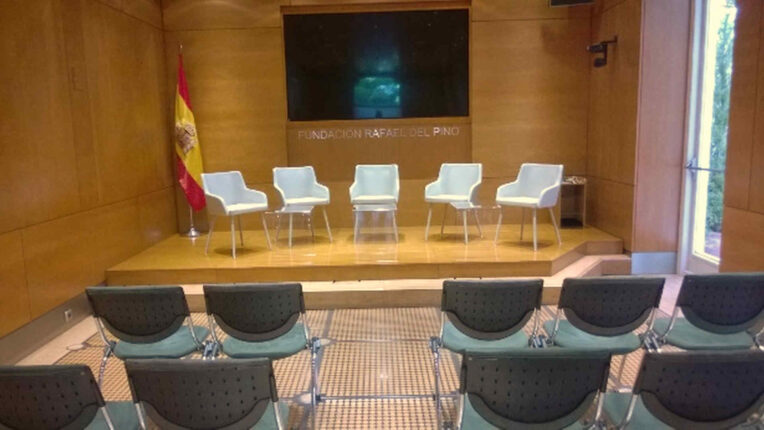 Features
Customisable lectern with AKG microphone and 13'' LED screen
5 seats for social gatherings
4 glass and wood tables
Theatre maximum capacity 90 seats
Audiovisual system. 98'' screen for ppt, video, pdf, etc.
TVE LG led Full HD 98''.
Raised platform envelope
3 flagpoles
3 Panasonic full HD cameras installed on the ceiling
Internet connection, wifi and fibre
8 loudspeakers evenly distributed along the room's ceiling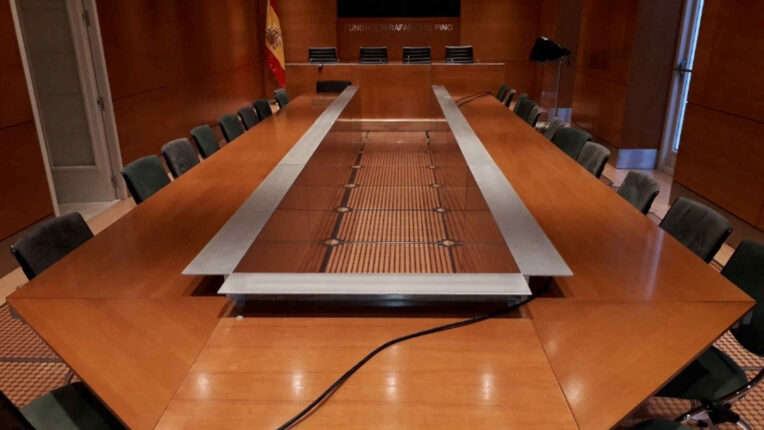 Features
Imperial table for a maximum of 42 people, adaptable to less people -according to need-.
Audiovisual system. Screen for ppt, video, pdf
With DCN Bosch desktop stationary microphones, 20 microphones
Wireless microphones: 1 hand-held and 1 lapel microphone.
1 slide pin
1 audio rac with 10 sockets
3 Panasonic full HD cameras installed on the ceiling
Internet connection, wifi and fibre
8 loudspeakers evenly distributed along the room's ceiling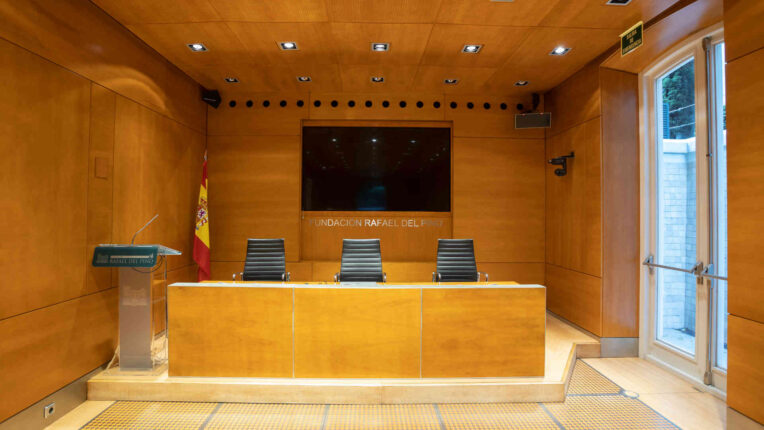 Features
Customisable lectern with AKG microphone and 13'' LED screen
3 detachable table modules for up to 6 speakers, with built-in microphones and 3 13'' LCD screens.
Theatre maximum capacity 90 seats
Audiovisual system. 98'' screen for ppt, video, pdf, etc.
Wireless microphones: 1 hand-held and 1 lapel microphone.
1 slide pin
1 audio rac with 10 sockets
3 flagpoles
3 Panasonic full HD cameras installed on the ceiling
Internet connection, wifi and fibre
8 loudspeakers evenly distributed along the room's ceiling