The Foundation's intense activity was reflected in its social networks. On 31 December 2022, the Foundation had 87,016 followers on its institutional social media accounts, a figure that represents an increase of 17,214 followers in 2022 compared to 2021. 
If this data is expanded with the social networks that the Foundation has promoted in its segmentation strategy, either by theme or by groups of people, the Foundation will be able to Alumni (11,268 followers), the total number of followers on social networks would stand at 98,284 followers. The attached graphs describe more clearly the evolution of the Foundation's institutional accounts on the main social networks in the period 2013-2022.
MONITORING OF THE FOUNDATION'S INSTITUTIONAL ACCOUNTS ON SOCIAL NETWORKS . 2013-2022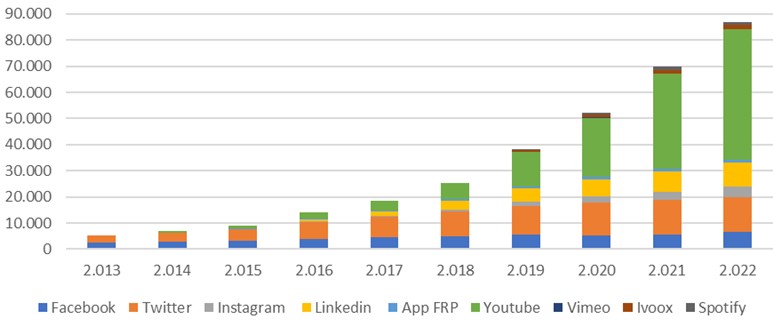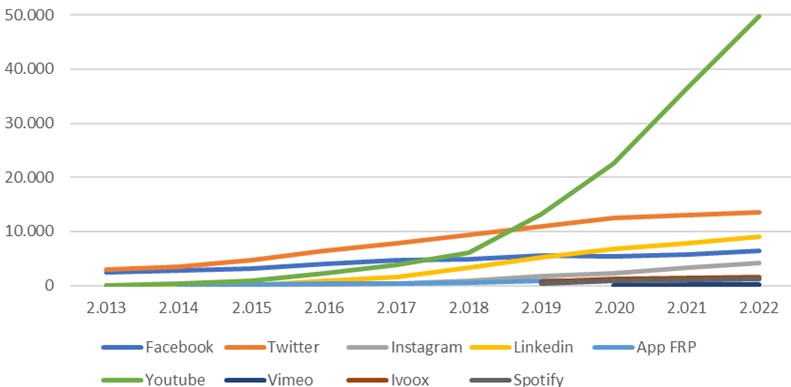 The Foundation's institutional accounts on social networks with the largest following in the period January-December 2022 were:
Youtubewith 49,800 followers;
Twitterwith 13,450 followers;
LinkedInwith 9,034 followers
e Instagramwith 4,191 followers.
As for the platforms in the audio content segment, on the social network IvooxOn the Spotify platform, podcasts downloaded by our 1,596 followers amounted to 44,787 and, on the Spotify platform, the Foundation's 1,206 followers downloaded 4,570 podcasts of Foundation content.
In any case, the most significant growth in the period has undoubtedly been in downloads of streaming video content.
As of 31 December, 1,549,268 downloads of content had been registered on the platform. FRPTV and on the Foundation's channel at Youtubeas well as 1,400 reproductions in Vimeo. These figures, added to the corresponding figure for followers by streamingThe total amount of content viewed by the Foundation in 2022 reached 13,757, bringing the total amount of Foundation content viewed in 2022 to 1,564,425.
The number of impacts in the traditional and digital press reached 1,009, representing an equivalent advertising value of €4,981,764 and an equivalent communication value of €16,917,634.